Asiga MAX Mini 
Additive Manufacturing Systems
The Asiga MAX Mini is the world's most advanced lab 3D printer offering exceptional productivity in a small footprint. Featuring the cutting-edge Smart Positioning System coupled with 39 µm HD print precision, the Asiga MAX Mini is optimized for a variety of precision uses in dental and audiology lab production, engineering prototyping, and other small part manufacturing where precision is essential.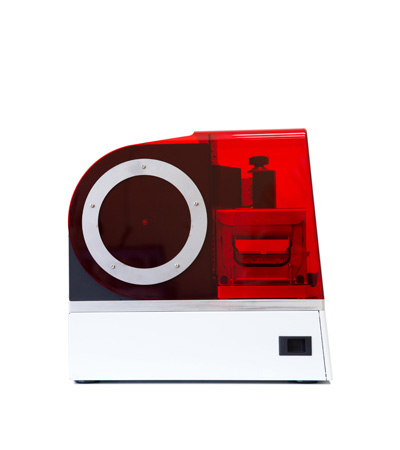 SPS™ Smart-Positioning-System Technology

Asiga's unique SPS™ process guarantees every model layer is formed accurately in minimal time, making the MAX Mini ideal for medical device manufacturing where precision is critical.
OPEN MATERIAL SYSTEMS
Print on our machines with any suitable material from any material manufacturer. Your choice, no strings!
Fastest Material Changeover
The fastest material change over than any other product on the market. Complete in under 30 seconds.
SPECIFICATIONS
Model
MAX Mini
 
MAX Mini 


UV

 
Build Size X, Y, Z
51 × 32 × 75 mm
 
51 × 32 × 75 mm
 
Pixel Size X, Y
39 µm
 
39 µm
 
Z Control
1 µm
 
1 µm
 
Light Source
405 nm UV LED
 
385 nm UV LED
 
Material System
Open
 
Open
 
File Inputs
STL, SLC & Stomp
 
STL, SLC & Stomp
 
Software
Asiga Composer included
 
Asiga Composer included
 
Network Compatibility
Wifi and Ethernet
 
Wifi and Ethernet
 
Industry Sectors
Jewelry
 
Dental and Audiology
 
System Size
26 × 38 × 37 cm
 
26 × 38 × 37 cm
 
System Weight
16.5 kg
 
16.5 kg
 
Packaged Size
41 × 50 × 48 cm
 
41 × 50 × 48 cm
 
Power
12 VDC 10A
 
12 VDC 10A
Industries
Dental

Audiology

• orthodontics
• crown & bridge
• dental models
• custom trays
• partial dentures
• surgical guides
• Ear Molds
• Ear Shells
• Silicone injection
• Custom in ear audio
• Production in ear audio
Engineering

Jewelry

• Product Development
• Proof of concept
• Usable prototypes
• End use parts
• Resin development
• Metal casting capability of high and low temp alloys
• Mold injection variance elimination
• Quantity small parts
• Large format parts
• Direct high temp metal casting from grown waxes
• Printed multi-part injection molds